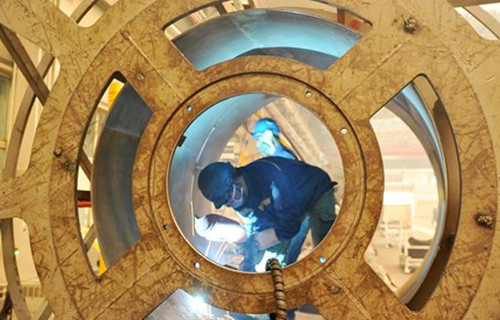 China's economy is still healthy, experts told the Global Times, even though economic data for April has pointed to weakening growth momentum. However, a broader economic slowdown might be seen later this year, they said.
The economic figures were disclosed by Xing Zhihong, spokesman for the National Bureau of Statistics (NBS), during a press conference on Monday. In April, China's value-added industrial output rose by 6.5 percent year-on-year, down from the 7.6 percent growth in March.
Also, China's non-rural fixed-assets investment rose 8.9 percent from January to April, down from 9.2 percent in the first three months this year.
The investment slowdown was mainly due to decreased capital inflows into projects, Liu Xuezhi, a senior analyst at Bank of Communications, told the Global Times on Monday.
"Given the economic slowdown, we can see manufacturing investment remains at a low level. Some small and medium-sized enterprises are not willing to expand their investment," Liu noted.
In terms of consumption, China's retail sales in April rose 10.7 percent year-on-year to 2.73 trillion yuan ($396 billion), down from 10.9 percent growth in the previous month.
The data prompted some overseas media outlets to voice suspicions about the overall health of China's economy. CNBC, for example, said in a report on Monday that the figures show China's economy is slowing down in growth momentum and is losing steam. The Wall Street Journal also expressed concerns about the state of China's economy in a report on Monday.
But experts all stressed to the Global times that China's economy is still on the right track.
Liu Dongliang, a senior analyst at China Merchants Bank, said in a research note sent to the Global Times Monday that there's no evidence of any worrying economic turning point, and that the domestic economy is still in good shape.
"The slowdown demonstrated by certain economic data in April is only to a mild extent," he said.
This point was also emphasized by Xing during the press conference, saying that although the industrial sector slowed compared with March, 6.5 percent growth is still a relatively strong level. "The changes (in March and April) are just fluctuations within an appropriate range," he noted.
Liu Dongliang said that the economic data for April showed some positive factors that "outnumbered" the negative factors. For example, investment in the real estate sector surged 9.3 percent year-on-year from January to April to 2.77 trillion yuan, up from 9.1 percent growth in the first three months this year. China's trade also rose in April by 16.2 percent year-on-year to 2.22 trillion yuan.